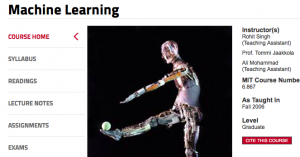 In this post, you get the information related to MIT OCW machine learning course from MIT OpencourseWare (OCW). They use  Matlab as the primary programming environment. The documentation for Matlab could be found on this page, Matlab Documentation.  The course is provided by Electrical Engineering and Computer Science department.
Other related courses which could be useful for data scientist / machine learning engineers are some of the following:
Lecture Notes – Machine Learning Course
Lecture notes could be found on the following topics:
The instructors for the course (currently) are the following:
Rohit Singh (teaching assistant)
Ali Mohammad (teaching assistant)
Download Machine Learning Course Materials
The entire course material can be downloaded from this page (Download Course Materials). This is the direct download link.
Summary
In this post, you got the information about three different MIT OCW machine learning courses which could be useful for machine learning engineers/ data scientists. These courses are machine learning, introduction to probability, introduction to computational thinking and data science. All of the course materials (video lectures and lecture notes) are free for download and you could get started with self-paced learning anytime, anywhere.