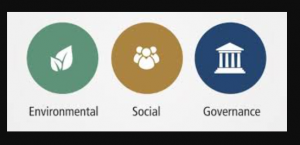 This blog post is geared towards ESG professionals. ESG initiatives are important for organizations to measure their ESG performance. It is of utmost importance to understand ESG KPIs / metrics and how to track ESG metrics. ESGs can help companies improve their operational efficiencies, environmental impact, financial position, governance, transparency, and societal contributions while managing risks. Data analytics can play key role in identifying KPIs, data needed for that KPIs and building dashboards for tracking those KPIs.
What is ESG?
ESG is an acronym that stands for Environment, Social, and Governance. ESGs encompass issues such as ethics, diversity, social justice, employee relations, and governance. Implementing ESG initiatives can help companies improve their operational efficiencies while managing risks that may have a negative impact on the company's reputation if they aren't addressed properly.
Procurement teams are responsible for ESG initiatives. ESG data can be included in KPIs to measure the impact of ESGs on company performance.
What are some of the ESG KPIs / metrics?
The following are some of the examples of ESG KPIs:
Metrics that relate to the usage of natural resources. For example, some examples include the following:

Renewable energy consumption
Carbon footprint per employee.

Metrics that related to the environmental impact on water scarcity and quality relative to business activities such as manufacturing processes, transportations, etc. This can be measured by assessing the type of internal systems in place within the organization.
Metrics that relate to the health and safety of employees, communities, patients, or consumers the business interacts with. Some ESG KPIs include the following:

Lost time incident rate (LTI),
Frequency rate (FI) per 100 full-time workers (FTEs).
Workplace injuries/illnesses by severity, type, and costs.

Metrics that measure initiatives such as energy efficiency improvements in industrial facilities or an increase in the recycling of materials by a company. ESG KPIs can be used to track progress towards environmental goals set out for reducing water usage, greenhouse gas emissions, etc., which is one aspect of ESG reporting. This is done by measuring the ESG initiative's impact on water usage, etc.
ESG's key performance indicators also measure greenhouse gas emissions by the facility and assess progress towards ESG goals.
Metrics that relate to the ethical and compliance aspect of a business such as human rights, labor policies, environmental concerns, etc. ESG KPIs include supply chain impact for child labor or forced/prison labor; diversity within leadership ranks; safety compliance; or regulatory compliance. ESG KPIs are also used to measure the effectiveness of ESG initiatives by measuring changes in ESG compliance, risk management policies, work conditions, and environmental impact, etc.
Social metrics that measure ESG initiatives are focused on community development and corporate philanthropy. ESG KPIs include the number of employees volunteering in their local communities, percentage of the workforce participating in volunteer programs, etc.
ESG KPIs also track the financial contribution a company is making to sustainable causes such as environmental protection or poverty alleviation efforts through measures like charitable giving, ESG spending efficiency & effectiveness, etc.
ESGs KPIs can be used to measure the ESG performance of a company's supply chain and suppliers. This includes specific ESG metrics such as worker rights, immigration status, environmental impact from raw materials, etc.
ESG KPIs are also used to track supplier diversity with respect to gender or race relative to workforce demographics within a business. Metrics such as supplier ESG management and ESG business acquisition can be used to measure ESG initiatives taken by suppliers. ESGs KPIs use specific metrics such as the number of employees, gender diversity, etc., within a supply chain or workforce demographics relative to those numbers within an organization's own workforce. Metrics that assess workers rights in developing countries, supplier ESG management and ESG business acquisition, etc.
How to track ESG KPIs / metrics?
The following represents different techniques that could be used to track ESG KPIs / metrics:
ESG Dashboard. The ESG dashboard would consist of a set of dashboards, each one dedicated to the tracking and monitoring of different ESGs or social impact topics.
ESG Social Media Tracking & Analytics. Track social media data related to your organization's ESG initiatives in order to measure ESG success.
ESG Data Analytics & Metrics Modeling. Implement ESGs into your current analytics model and provide KPIs that can be tracked against goals or targets needed for these programs/initiatives.
Who is responsible for tracking ESG KPIs?
ESG team is responsible for ESG KPIs/metrics. The composition of the ESG team will vary depending on the industry. Either the ESG team may be responsible for ESG KPIs/metrics or ESG metrics are not tracked in-house but outsourced to consultants, which means you would need to work with outside teams and support them when needed.

Latest posts by Ajitesh Kumar
(see all)