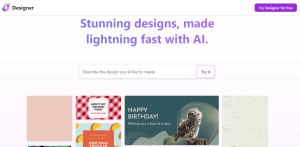 Are you looking for a hassle-free and smart way to make impressive designs without any graphic design expertise? Then Microsoft's newly launched tool, Microsoft Designer, may just be the answer. The realm of digital design welcomes a new entrant that promises to revolutionize the way we create – Microsoft's latest offering, Microsoft Designer. Drawing parallels with the popular tool Canva, Microsoft Designer is an innovative platform that brings effortless design capabilities to your fingertips.
This user-friendly, AI-powered design platform caters to an extensive array of users, from entrepreneurs and marketers to educators and students, and even to social media enthusiasts. Whether you are a seasoned professional looking to expedite your design process, a small business owner trying to market your brand effectively, a teacher wanting to create engaging presentations, or a student trying to make your projects more visually appealing, Microsoft Designer is the tool for you.
What makes Microsoft Designer stand out? Let's explore its impressive features:
AI-Powered Design Suggestions: Powered by advanced AI, Microsoft Designer creates a host of design options based on your brief, helping you find the ideal design swiftly. You can add your own images or generate AI-powered images based on the description that you provide. The picture below represents the same.



Customization Options: With Microsoft Designer, you have complete creative control. Modify colors, fonts, text, and images to perfectly encapsulate your brand's message or to make your school project stand out.



Sharing Options: Sharing your designs is a breeze with Microsoft Designer. You can export your creations as images, PDFs, or PowerPoint presentations, or share them directly on your website or social media platforms.
Microsoft Designer promises professional-quality designs in significantly less time. Whether you're an entrepreneur hoping to jazz up your marketing materials, an educator wanting to make learning more fun, or a student wishing to make a great impression, Microsoft Designer is the tool for you.
Here are just a few examples of what you can achieve with Microsoft Designer:
Craft engaging social media posts that make an impact.
Design striking invitations for your next business event or school gathering.
Develop insightful infographics to present your data or study findings.
Create targeted marketing materials to captivate your desired audience.
And so much more!
Microsoft Designer is more than just a design tool; it's a platform that empowers everyone to become a designer. If you're seeking a flexible, intuitive, and powerful design tool, look no further than Microsoft Designer. Take a plunge into the world of intelligent design and unleash your creativity like never before!