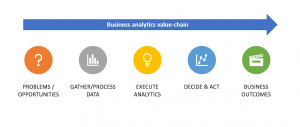 Business analytics is a business function that has been around for years, but it's only recently gained traction as one of the most important business functions. Organizations are now realizing how business analytics can help them increase revenue and improve business operations. But before you bring on a business analytics team, you need to determine if your company needs full-time or part-time team members or both. It might seem logical to hire full-time staff members just because they're in demand, but this isn't always necessary. If your business operates without any external data sets and doesn't have complex reporting and advanced analytics needs then it may be more cost-effective to use freelancers rather than hiring full-time employees. In this blog post, we'll discuss different aspects of business analytics team including roles and responsibilities.
What is Business Analytics?
Business analytics can be defined as the practice involving processes, tools & technologies for drawing business insights from data with an objective to achieve desired business outcomes. The following represents key elements of business analytics value-chain: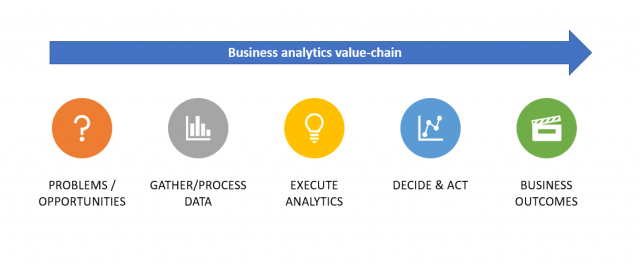 Business analytics at times is also referred to as business intelligence. Business analytics can be used for business analysis, business reporting, business process automation and optimization of business processes, customer behavior prediction & market research for product development or marketing initiatives. It is a multi-disciplinary field that involves skills from statistics, mathematics, data mining, software engineering, visualization, etc. It's all about using business intelligence tools to analyze business workflow, business processes, and customer behavior.
Business analytics can take many forms depending on what industry you are in or what you do as a profession. If your job requires any kind of business processes and related workflow analysis then there might be some element of business analytics in that. If you work at a business where the customer is always right, then business analytics might be used to predict future business trends based on past behavior or it may help find new markets within your industry of focus.
Given every organization is considering digital transformation, business analytics is more important than ever. It's no longer business as usual, you can't just sit on your hands and wait for business to come to you – it never will! Your business needs a proactive approach in order to maintain its competitive edge.
Guiding Principles for Laying down Business Analytics Team
The structure of a business analytics team needs to be laid down based on some of the following key functional areas. Each of the function areas makes use of different classes of tools & technologies.
Product management: Responsible for designing the analytics products and solutions including product/solution backlogs prioritization and management, coming up with success criteria and success metrics, tracking and reporting the success metrics
Data architecture: Overall design of the data environment to serve the needs of the enterprise
Data management & governance: Building, maintaining, and governing the data environment. Data management is tightly tied into business analytics data architecture
Reporting: Standardized, periodic renderings of data relationships and related metrics; Reporting is needed to convey business information effectively and quickly to users at regular intervals.
Ad-hoc analysis: Directed analysis to answer a specific question. Ad-hoc data analysis is required to meet specific business user demands in real-time
Advanced analytics: Advanced analysis of data leveraging predictive (AI, machine learning, data science) and prescriptive analytics.
Data mining is integral to successful reporting, ad-hoc analysis, and advanced analytics. Data mining refers to the process of extracting useful information from data or mining insights.
Structure of a Business analytics team
The Business Analytics team can be laid down around the following structure:
Product management:

Business analysts / product managers designing analytics products & solutions.

Data

Data architect
Data analysts
ETL or data integration developer
Database administrator
Data governance specialists

Analytics

Visualization / BI developer
ML engineers

Software development / IT team

Infrastructure specialists
System/application developer
Depending upon the size of your organization and overall strategy, you may choose to use the person with the same role across different projects.
Roles & responsibilities of each member of the business analytics team
The following represents the roles and responsibilities of different members of a business analytics team:
Business analysts (BAs)/ Product managers: Business analysts are part of this team and they work closely with data architects, data analysts, and data scientists to explain business needs and business issues that require attention. The role of a business analyst is extremely important. They are business experts who understand business needs and the business objectives that need to be met with appropriate data analysis techniques. The following includes some of the roles & responsibilities:


Design thinking workshop with customers (internals & externals) to understand the problem, define the problem and ideate the solutiona approaches
Come up with success criteria and related success metrics including leading and lagging KPIs.
Create and manage backlogs / user stories including prioritization
Manage analytics products & solutions releases
Track and report the success metrics / KPIs

Data architect: The data architect is responsible for the actual design of the data environment and is usually the person responsible for structuring the data models used in enterprise databases for data storage and access. Data architects are normally found in an IT organization either in a data warehousing team or larger enterprise architecture team. Data architect responsibilities include some of the following:

Identifying business data sources required for business analytics efforts.
Evaluate existing business data sources to determine if they are viable for the project requirements, and identify needed enhancements or integrations with other systems in order to meet project objectives.
Define business data models for each identified business source. This includes determining business entities and business attributes for each business data source.

Data analysts: A data analyst may or may not access the database directly, but usually has enough additional context about the business to execute a wide range of analyses on the data and draw a conclusion. This is the central role around which most data analytics functions revolve in many organizations.
ETL or Data integration developer: An ETL developer is responsible for building business analytics ETL solutions. They are responsible for developing data extraction, transformation, and load (ETL) processes that move large volumes of data from one system to another. Recall that ETL stands for extract, transform and load, or the process of taking data from one place, manipulating it, and placing it somewhere else. ETL developers are also usually located in an IT organization often within a data warehousing team.
Business intelligence (BI) / Visualization developers: The BI Developer manages some of the more technical aspects of a business intelligence toolset including maintenance. And is often responsible for the technical implementation and distribution of standard reports. A visualization developer is responsible for designing and developing reports, dashboards, scorecards, and other graphical representations of business analytics results. They are also usually located within an IT organization and they work closely with business analysts and business users who request business intelligence reports and information.
Data Scientists: The business analyst, data architect, business intelligence developer, and ETL developers all work together to meet business user demands for their business analytics needs. However, there is a new role that has emerged in the last few years called the Data Scientist. Data scientists or modelers are the ones who will use business analytics tools that allow them to perform predictive and prescriptive analysis. They build machine learning/statistical models which can be used for making predictions. They also build optimization models which can be used to determine the best business decision from a variety of options.
ML Engineers: ML Engineers are the ones who build the infrastructure that supports machine learning and deep learning. They build and maintain the software used to train business analytics models based on business data, as well as all of the services required for deploying those trained models into production for use by business users. Note that ML engineers are very much different from both data scientists and infrastructure specialists.
IT Infrastructure specialists: The infrastructure or IT system specialists will be in charge of data management and business analytics tools. They will be responsible for laying down the data environment. They will work closely with data and analytics to understand and implement data management and business analytics tools and technologies requirements. They manage the physical hardware and connections that exist both inside the company and which link to the outside world. Most of this activity will likely be transparent to users of the data but it's critical to the operation of the data environment.
System/application development and operations team: These teams build and maintain applications/systems that capture data and information for the business. They will also be involved in administering software applications and other tools. Both of these types of teams are almost always located in an IT organization or an organization devoted to software development.
Database administrator or DBA: The database administrator or DBA is responsible for the efficient and effective use of business databases. The DBA ensures the database is available to all users at all times for business data requirements and it performs periodic tune-ups or updates as necessary. DBAs are responsible for the creation of the database and maintenance of the database to ensure stability, accessibility, and efficient performance. One important role, the DBA can also play is helping analyst or other database users to tune their queries to run efficiently. This can be really helpful if you find you're queries are failing or taking a long time to run. DBAs can become part of the data warehousing team
Tips for getting started with your own business analytics team
Here are some tips to help you get started with your business analytic team.
Think about what roles your business analytics team need
Figure out whether you can use the same person across different business analytics team roles or whether you need different people to do the business analytic tasks. For example, data architects and business analysts can be used for multiple projects. Other roles which could be used across different projects include infrastructure specialists, DBAs, etc.
Hire the right people on board to make sure everything runs smoothly and everyone is able to do their jobs well without too much stress or pressure, this will lead to a positive working environment which means great things for productivity
Make sure all your staff members are skilled in using relevant software/tools that will enable them to carry out their business analytic roles effectively.
Strategies to follow if there is difficulty in finding the right person for each role as per business analytics team structure
If you are struggling with finding the right person for each role, there are a number of steps you can take to ensure that your business analytic team structure has all roles filled:
Create accurate job descriptions: You'll want people who have experience and skills with business analytics in order to fill these roles. By writing up accurate and detailed job descriptions, you can attract potential candidates that are a good fit.
Internal hiring: If you have business analytic employees, then there is no reason why they can't fill several roles in your business analytics team structure. They already know the company and its business practices well, which allows them to understand how their work influences overall business strategy.
Training: If you are hiring business analytics employees such as data analysts, data scientists, visualization developers who do not know the business or its practices, then some training may be necessary. Consider bringing in interns that can learn from experienced business analytics team members. Additionally, consider using online learning tools like webinars and e-books to teach your business analytics team members the business skills they need to succeed.
Hire from external vendors: If you are struggling with finding someone who is a good fit, then contact data analytics vendors that can introduce you to people in their networks that may have the right skill sets and backgrounds. Additionally, these data analytics providers often offer training and business analytic software that will help you find the right business analytics team members. If your business is looking for business analysts with a specific set of skills, then it may be best to hire consultants or freelancers instead of employees. Hiring external business analysis staff can free up internal resources and ensure that new hires have the particular skill sets necessary for success.
Setting up a business analytics team is quite a tricky task. It takes time and effort to find the right person for each role in your business analytics team structure, but it's worth the investment because of how essential they are to your company's success. If you are looking forward to knowing more, please drop a message and we will be happy to answer your queries.