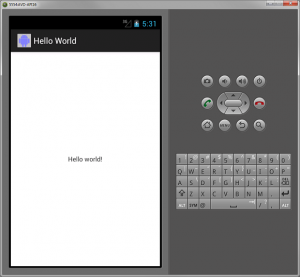 The article is written for those curious ones (Java developers at all level) who want to quickly get started with Android programming. This is what I did and got started with few hiccups (in relation with starting ADB server) to get the hello world done.
Download right set of tool: Visited the android SDK download page where I got option to download appropriate libraries/tools based on whether I am using one of the existing supported IDE such as eclipse. Although, I am an experienced Java developer and use Eclipse, I rather went with downloading entire ADT bundle consisting of eclipse and SDK platform/tools.
Choosing System Type: While I downloading I needed to take care of System type (32-bit or 64-bit). Easiest way to find is to open windows explorer, and right click on "Computer" and check "System type" on the pop-up window. This is a very critical step as you may have to download the tool twice if you end up doing mistake.
Start ADB Server: Once downloaded, I opened a command prompt window and went to <root-directory>\adt-bundle-<version>\sdk\platform-tools. There, I started adb server by giving command adb start-server. ADB stands for Android Debug Bridge. If you do not do this, and start eclipse and run helloWorld android application, you may end up with error such as "The connection to adb is down, and a severe error has occured"
Start Eclipse: Start Eclipse by going into <root-directory>\adt-bundle-<version>\eclipse and double-click on eclipse.
Hello World Application:  Create a new "Android Application" by choosing default options. For details, I read instructions from "creating an android project" page.
Run the HelloWorld App: Once done with android project creation, visited this page to follow the instructions to run the app on the emulator device and get to the following UI.
And, That's it! Let me know if it worked for you.