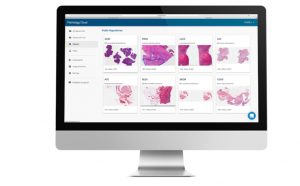 Proscia, a cloud-based digital pathology provider is on a mission to bring computer intelligence (using artificial intelligence (AI)) to pathology, fighting cancer by unlocking the data hidden in tissue.
The following are some of the key aspects of cloud-based digital pathology technology of Proscia:
Telepathology
Data management
Web application for managing/sharing slides' images
Image analysis (AI)
The details in relation to Proscia technology can be found on this page, Proscia Platform.




Proscia Technology – Telepathology
One of the key aspects of the Proscia platform is data gathering (slides' images) from different diagnostic sources. In order to achieve this, Proscia platform supports following:
Supports different slide scanning hardware devices to scan the slides and create related digital images in different formats
Send / upload the digital images to remote data centre or cloud over the internet
Allow users to collaborate, annotate the slides
Proscia offers some of the following services by making the most effective usage of Telepathology technologies:
Allow clients to send slides and ask for review
Allow clients to host the slides' images database and use the Proscia platform for data analytics purpose
Allow clients to share the slides to other stakeholders and collaborate in easier manner.
Proscia Technology – Data Management
The following are some of the key aspects of data management in relation to digital pathology:
Create and manage slides' repositories in cloud or on-premises for immediate access. This is where Proscia Pathology Cloud comes into picture. With Proscia Pathology Cloud, you would not be required to manage your infrastructure etc and just work with your app.
Integrate with various data sources including Laboratory Information Management System (LIMS)
Retrieve data from LIMS
Proscia Technology – Proscia App (Web)
Proscia allows some of the following using web app (Proscia app):
Access / view the slides from anywhere
Share the slides
Export the slides
Access permission for access to slides
Proscia Technology – AI-powered Image Analysis
Once image is maintained in the image repositories / database, it can be used for creating different ML models for cancer screening. Given that we are dealing with images, deep learning algorithms such as Convolutional Neural Network could be used for building models. These models can later be used for predicting whether a cancer is having malignant or benign cancer.




Want to join Proscia?
Are you willing to join Proscia? From what we learnt about their technology, you may be required to be good at one of the following to get a job at Proscia or join Proscia workforce?
Machine learning (Deep learning)
App development (web / mobile)
Big data technologies as they look to be dealing with large data sets
Cloud-computing given that fact Proscia Pathology Cloud platform
Experience in Telepathology (integrating Proscia with multiple slides scanning devices)
You may as well reach out to them on this email address, info@proscia.com, or send inquiries from the proscia contact us page.