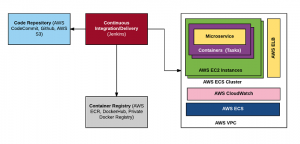 This article represents details on how would the technology architecture look like when dealing with continuous delivery of microservices containers (Dockers) on AWS Cloud. Please feel free to comment/suggest if I missed to mention one or more important points. Also, sorry for the typos.
Following are the key points which will be dealt with, in this and the following article (part 2):
Technology architecture building blocks
Technology architecture description
Technology team and required skillsets
In this article, we shall look into key technology architecture building blocks. In second part of the series, we shall look into steps needed to be configured to achieve the continuous delivery of microservices containers into AWS cloud along with the technology architecture diagram.
Key Technology Architecture Building Blocks
Following is the high-level technology architecture diagram which represents key building blocks of the system.
Below is the details on key technologies which would make up the technology architecture.
Stay tuned for my next blog where I would be taking you over the details related with technology architecture diagram along with setting up the system for moving the microservices containers in the AWS cloud on the basis of continuous delivery principles.