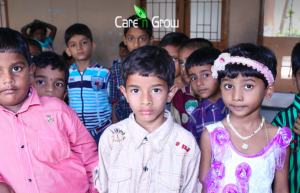 CareNGrow is building a preventive healthcare platform based on AI and cloud-computing technologies. One of the goals is creating and monitoring the physical, psychological, and behavioural health profile of children in schools. The following represents key workflow steps which is implemented while examining a kid / child:
Data gathering
Transfer data over internet to cloud
Feed the data into the analytics platform
Perform the data analysis (Predictive Analytics)
Generate health reports
This is a brainchild of a young doctor, Dr. Meghana Kambham.
CareNGrow is already making waves in different startup competitions owing to the work they have been doing. In this relation, they have been announced as one of the UberExchange winners. Check out more news on the CareNGrow news page.




CareNGrow Technology – Data Gathering
The following represents different kind of data that looks to have been gathered using app (questionnaires), bio-medical sensor devices, imaging techniques etc:
Physical

Height, weight
Vision
Dental
Blood pressure

Developmental
Psychological
The questionnaires seem to have been built to gather appropriate data based on some of popular behavioral testing techniques such as following:
Transtheoretical Model (TTM)
Behavior modulation technique (BMT)
Captology (Computers as persuasive technologies) or behavior design
Social contagion
Structured learning training (SLT)
App (Tablet) for Data Gathering
The above data is gathered using an app which is loaded in a tablet and given to the school teachers. School teachers gather the data from the children and enter into the app from time-to-time for constant monitoring. Data gathered can be of following different types:
Text data (captured from Questionnaire): The text data can generally be stored in one RDBMS or NoSQL data storage.
Images: Images can be stored on file system with reference captured in the database.
Data gathered from different schools are sent over internet to cloud where the CareNGrow platform is hosted.
CareNGrow Technology – Data Analytics
Once the data is captured, the next step is to perform data analysis. The data analysis could include traditional analytics as well as predictive / prescriptive analytics.
Given the nature of problems related to preventive healthcare that CNG is trying to solve, it looks to be most likely that CareNGrow technical team would like to take a shot at classification problems in relation to applying machine learning to predict the likelihood of children suffering from one or more diseases such as some of the following:
Obesity based on eating and exercise patterns
Learning disabilities
CareNGrow Technology – Health Reports
Finally, every child / kid is provided with a health report which may consist of information related to some of the following:
Vision
Dental health
Any issues related with reading and writing
Would like to be part of CareNGrow IT Team?
Here are some of the career opportunities that may show up with CareNGrow in time-to-come:
App Developers / Full Stack Engineers (Web and Mobile)
AI / Machine Learning Engineer or Data Scientist
Build and release Engineer (Manage cloud-computing services, do build and releases)
Product / project manager
Please feel free to reach out to them on their Contact Us page.