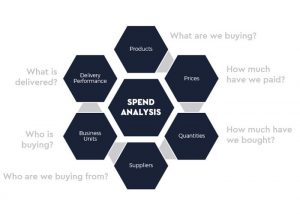 In this post, you will learn about the high-level concepts of spend analytics in relation to procurement and how data science / machine learning & AI can be used to extract actionable insights from spend analytics. This will be useful for data analytics or business analytics professionals looking to understand the concepts of spend analytics.
The following topics will get covered in this post:
What is spend analytics?
Why spend analytics?
Spend analytics – Descriptive & Predictive 
Some popular spend analytics products
What is Spend Analytics?
Simply speaking, spend analytics is about performing systematic computational analysis to extract actionable insights from spend data. As part of spend analytics, the following are some of the key aspects of spend data from which meaningful patterns get discovered, interpreted and communicated:
What is the product or product category which is bought?
From which suppliers, the products are brought?
How much are the spends for the bought products?
Who (business units) bought the products?
The following are different classes of users who will be using spend analytics for driving their decisions:
Category managers
Regions & countries leadership team
Business / finance team
The following represents some of the questions which can be answered using spend analytics:
What are the categories & who are the suppliers where major spends (more than 70%) are happening?
What are the categories where 5% of spends are happening?
Can the suppliers be consolidated in relation to tail spend?
What percentage of spend is direct and indirect spends?
What percentage of spend is through contract and non-contract?
How is my spend looking across different regions and countries?
How many POs have been raised?
Why Spend Analytics?
Spend analytics is very strategic to procurement analytics because of the following reasons:
Savings opportunities finder: Help identify savings opportunities with the help of ABC analysis by identifying spend categories where 80% of spend is made. It is with these suppliers with whom negotiations is done to carve out savings opportunities.
Tail spend analysis: Help analyze spends in different categories with the help of ABC analysis thereby identifying processes related spend areas (tail spend) which can be optimized for greater operational efficiencies.
Supplier relationship management (SRM): Help analyze suppliers with whom spends are made. These suppliers can be further categorized into strategic and non-strategic suppliers. This helps in appropriately maintaining supplier relationship. In addition, it helps in consolidating spends with fewer suppliers in case of tail spends thereby leveraging relationship to fetch greater discounts.
Spend analysis by regions and countries: Provides insights on spends by regions and countries. This helps in tracking spends and detect anomalies, if any.
Spend Analytics – Descriptive & Predictive
The following are different forms of spend analytics including descriptive and predictive analytics which can drive decision making in relation to spends:
Descriptive spend analytics: Descriptive spend analytics can be used to extract hindsight (what has happened in the past?) in relation to the following areas:

Perform ABC analysis in relation to spends in different categories to understand the major spend areas and suppliers with whom these spends happen. This can be used to identify strategic suppliers where effort can be put to achieve cost savings.
As part of performing ABC analysis, identify categories where tail spend happens (5% of spends). This can be used to achieve operational efficiencies as 70-75% of effort is traditionally found to be put with tail spends. If these efforts can be put on strategic spends, one can achieve greater cost savings. One can apply machine learning based clustering techniques to identify spends belonging to tail spends along with tail spends which can be steered to few preferred suppliers rather than multiple suppliers.

Predictive spend analytics: One can use to predict spends (spend forecasting) in different categories which could be further used for budget planning at regular interval and most importantly in the start of the year. Machine learning algorithms in relation to time-series forecasting can be used to predict the spends.
Some Popular Spend Analytics Products
The following is a list of some of the popular spend analytics products:

Latest posts by Ajitesh Kumar
(see all)