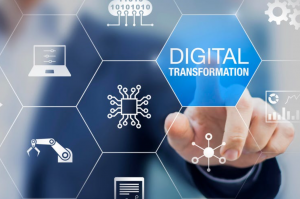 Digital transformation is a digital strategy that aims to change the way an organization operates. It's not just about digital marketing anymore – digital transformation includes all aspects of digital engagement from customer service, product development, and delivery, operations, etc. And it requires a holistic approach to digital transformation without any silos or strategic gaps in between departments. In this blog post, we will cover what digital transformation is and why organizations should take advantage of this strategy. We'll also look at how digital transformation is happening in different industries.
What is digital transformation?
Digital transformation is a digital strategy that aims to change the way an organization operates and deliver business value to its customers, suppliers and partners. It helps organizations to digitalize the key business processes by integrating advanced digital technologies into operations. The primary aim for digital transformation strategy is to enable organizations responds to dynamic business needs with great agility, speed and scale and gain competitive edge over its competitors. 
The goal of digital transformation is to streamline all digital activities / initiatives that are taking place across different departments in an organization, so it can become more efficient and profitable. It covers every aspect of digital engagement from customer service, product development, and delivery, operations, etc., which requires a holistic digital strategy and approach to digital transformation. Digital transformation enables an organization to use digital technologies to bring changes in the traditional business models and processes.
Companies that do not allocate their resources around digital transformation will be left behind in the digital age by those who adopt digital technology- so now's the time for digital transformation.
Why digital transformation?
Here is a list of key reasons why any organization should consider adopting digital transformation sooner than later.
It can help organizations acquire and retain customers, create new revenue opportunities and stay ahead of the competition through digital technologies such as social media, mobile applications, or other web-based tools.
It can help improve operational efficiencies, reduce costs, increase revenue opportunities and create new business models across multiple dimensions of the company's operations including marketing, sales, product development, and digital customer engagement
It can help organizations leverage digital technologies for new business models by building up capabilities in analytics, big data management, security skillsets & more.
It can help organizations tap into digital-first opportunities that are enabled by technology transformations
It provides a digital-first strategy that enables organizations to tap into digital innovation opportunities
It can help organizations stay ahead of the competition by adopting and adapting digital disruption by using digital technologies to disrupt themselves, rather than allowing competitors or new entrants to do it for them
How to lay down digital transformation strategy?
Here are key building blocks of a digital transformation strategy:
Digital customer experience: To delight the internal and external customers in today's digital world, digital customer experience is the key. It requires digitalizing all touchpoints of digital interactions with customers whether it be digital personalization, real-time engagement, or data analytics for live business insights to optimize the digital customer experience.
Business processes digitalization: Digitalizing business processes is key to run the digital transformation. It is the core of digital transformation strategy. Processes are automated, digitalized and connected in real time for improved productivity, decision making and insight generation. As part of business processes digitization, it will require one to identify key business processes, digitalize them and integrate with other digital business processes. It would require digital technology platforms and related tools & frameworks related to digital automation and digital collaboration to optimize business processes. Digital technology platforms enable digital business capabilities to improve your product or service offerings, generate insights into customers, etc. The digital technology platforms encompass bits and pieces like customer experience management (CEM), artificial intelligence (AI) , machine learning (ML), digital customer relationship management (CRM), digital business process automation, digital supply chain, and digital manufacturing. Remember that business processes digitalization is different from business process management.
Digitalization of operations: Digitalization of operations is another important part of digital transformation initiatives. It would require digitalizing the organization's operational processes to improve productivity, reduce costs and generate insights into customers & business performance for better decision making across all levels in an organization.
Workforce digitalization: Digitalizing the workforce is one of the key aspects of the digital transformation strategy that would impact human skillset across different levels in an organization. It requires digitalizing all aspects of the workforce including talent acquisition, employee performance management, and development, etc. Additionally, it requires re-skilling & up-skilling employees to get ready for the digital future where data and digital technologies would drive most business processes.
Digitalizing sales & marketing: Another key aspect of digital transformation is digitalizing sales and marketing functions. It would require digitalizing the processes, creating digital campaigns leveraging digital technologies like social media, digital advertising, or digital PR to generate leads for new business opportunities. In digital marketing, there are new digital channels such as social media and e-commerce to engage with customers. One of the key goals of digital marketing is driving sales conversions through multiple digital strategies which include email marketing, content strategy & creation, or paid search advertising among others. Digital marketing can be used for acquiring new customers as well as retaining existing ones by engaging them through a personalized customer experience. Digital marketing also allows one to generate insights into the digital presence of their brands online so that they can improve upon it over time.
Digitalization of finance: Of all other aspects of a digital transformation strategy, it is critical that your organization adopts an end-to-end digital technology platform to digitalize its finance function. It would require digitalizing all operations related to revenue, expenses, and cash flows across the organization. In addition it would also require automated reconciliation between digital financial systems where required & real-time analytics driving key business decisions at different levels in an organization from bottom up.
Data & Analytics: Data analytics form the key digital asset that digital transformation initiatives need to thrive. Data analytics would enable digital business insights for better decision making, predictive analysis through machine learning & AI platforms, etc.
What can be the composition of an overarching digital transformation team?
Here is the composition of an overarching digital transformation team:
Head of digital transformation: This person will be responsible for laying down the digital transformation strategy and how it is to be implemented.
Digital transformation evangelists/champions could be the business processes managers or owners of an organization. They have to go out and educate different business units on digitalization, its benefits, and how it is going to affect them.
Business analysts: The digital strategy will need a team of strong business analysts who understands how different digital technologies can add value to the overall digital transformation journey and bring success to their company or organization. A good business analyst working with digital technology has an understanding of what's possible, what's not, and how to get there.
Data analytics experts: The digital transformation team should comprise data analytics experts who help build the right digital strategy. They can be part of digital strategy development or audience research and analysis, depending on the scale at which they are operating in their company. Data scientists would understand where to get data from, what it means for different business units, how to derive insights out of it, and what digital strategy to adapt accordingly.
UX/UI specialists: The digital team should comprise one or more UI/UX designers and developers who have a strong understanding of digital user behavior, their needs, and how to solve them with the right product or service offering. They need to understand what kind of interaction works in this digital world. User interface design is a key part of digital transformation and digital strategy.
Technology transformation team: The digital transformation team should have a strong technology team who can help with digital strategy, product development, and deployment. They also need to understand the digital business strategy and how it is going to be executed in real-time through their products and services offering.
Digital marketing experts: The digital transformation team should comprise digital marketing experts who can help in building a digital strategy. They will have to look at what kind of digital campaigns work today with respect to the digital landscape and customer behavior, as well as how it affects different business units or stakeholders within an organization.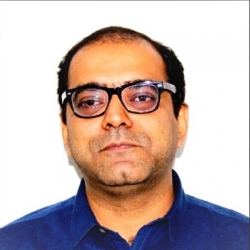 Latest posts by Ajitesh Kumar
(see all)