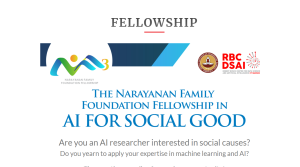 Are you an AI researcher driven by the passion to make a positive impact on society? Do you seek to use your knowledge in machine learning and AI to contribute to real-world issues? Are you intrigued by the idea of joining a leading interdisciplinary research center for data science in India?
Then here is the opportunity to discover a unique opportunity that aligns with your aspirations and expertise at the Robert Bosch Centre for Data Science and Artificial Intelligence (RBCDSAI), IIT Madras. Apply Now for fellowship program in AI for social good.
About RBCDSAI
RBCDSAI is one of India's pre-eminent interdisciplinary research academic centers specializing in Data Science and AI. Its mission and work revolve around:
Largest Network Analytics: With extensive capabilities in network analytics, the centre pioneers in various fields.
Deep Reinforcement Learning: Leveraging advanced techniques to drive innovation.
Natural Language Processing & Deep Learning Groups: The most active groups focused on cutting-edge technologies.
Mission-Oriented Research: Targeting domains like manufacturing, smart cities, financial inclusion, and healthcare.
Collaborative Approach: Working closely with governments, industries, and the clinical sector.
The Narayanan Family Foundation Fellowship in AI for Social Good
This new program aims to attract early career AI researchers with exceptional potential. Details include:
Eligibility: Recent PhD graduates, early career researchers in computer science, biomedical sciences, management, finance, engineering, etc.
Salary: Attractive salary of 15-18 lakhs per year (approx. US$ 20,000 – 24,000) depending on experience.
Research Grant: A one-time research grant of up to 30 lakhs (approx. US$ 40,000).
Term: Non-renewable 3-year term.
Mentorship: Independent research under the mentorship of the Centre in AI for Social Good.
Infrastructure Access: Availability of high-end compute infrastructure and datasets.
On-going AI for Social Good projects at RBCDSAI
RBCDSAI is actively involved in several socially relevant projects, including:
Emergency Ambulance Allocation: In collaboration with The Tamil Nadu e-Governance Agency (TNeGA), they utilize AI to optimize emergency ambulance locations.
Financial Distress Prediction for Low-Income Households: Working with Dvara Trust, they focus on algorithms that draw attention to economic well-being.
Improvement of Child and Maternal Health: Collaboration with NGOs and clinical research institutions to enhance health outcomes.
This opportunity is not just a career pathway; it is a chance to be part of a mission that leverages AI for social good. If you align with these goals and have the requisite expertise, apply today to make a credible impact on society. Here is the full details.